About Us
---
UCF Student Health Services was established when UCF, then Florida Technological University, first opened its doors in 1968. Since that time, the department has grown tremendously and today averages 6,000 patient visits per month. We provide low-cost health services to the UCF community and are funded, in part, by the student health fee. We are committed to providing the UCF community with quality healthcare, and as such maintain accreditation by the Accreditation Association for Ambulatory Health Care.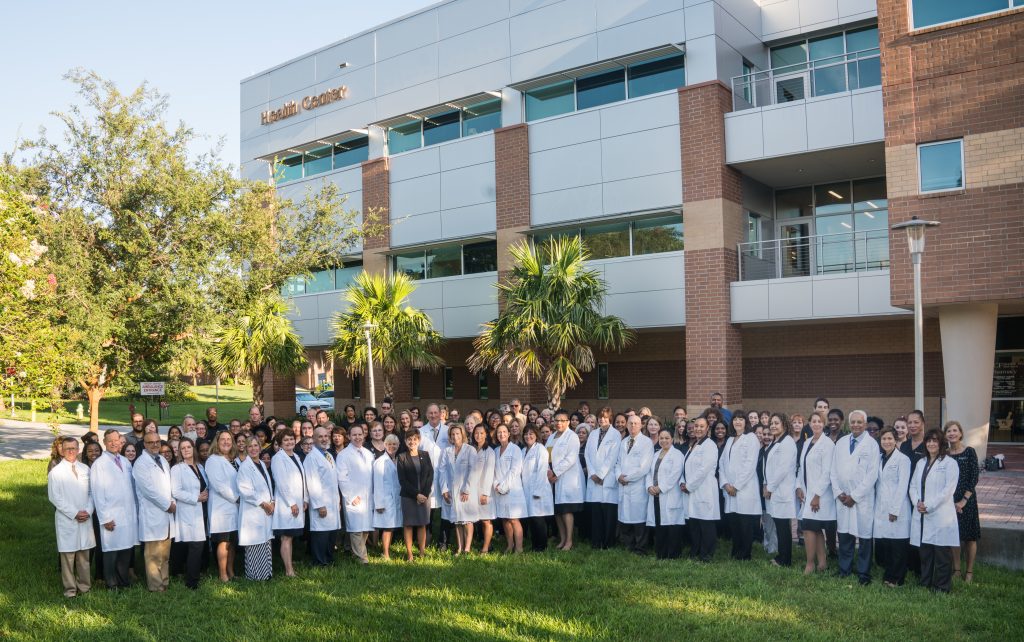 Our staff includes sports medicine physicians, psychiatrists, gynecologists, dentists, primary care physicians, physician assistants, advanced registered nurse practitioners, dietitians, pharmacy staff, nursing staff, alcohol and other drug counseling staff, laboratory staff, and radiography staff. Departments include Administration, Appointments, Building Management, Dental, Primary Care, Alcohol and Other Drugs, Psychiatry, Physical Therapy, Gynecological Care, Sports Medicine, Health Information Management, Laboratory, Immunizations, Business, Marketing, Pharmacy, Nursing, Insurance, and Information Technology.
Our Mission
UCF Student Health Services provides high-quality healthcare that delivers value, promotes lifelong well-being, and supports academic success within the UCF community.
Our Vision
We aspire to be the model college health program of the future that will transform the health and well-being of the community we serve.
Our Values
Excellence – We strive for the highest level of performance and are dedicated to safe, efficient and high-quality patient-centered care with adherence to national accreditation standards.
Integrity – We are committed to the highest ethical, professional and personal standards.
Community – We are compassionate, empathetic and socially responsible in order to promote the inclusivity and well-being of all.
Creativity – We will use our talents to promote an environment of discovery, adaptability and innovation that enhances the human experience.
Scholarship – We are committed to professional competency and fostering student academic success.
Collaboration – We work together to serve our UCF Community through strategic partnerships.
Meet Our Providers
UCF Student Health Services staffs a wide variety of medical providers, including MDs, Advanced Practicing Registered Nurses (APRN), and Physician Assistants (PA). Patients can always request from whom they would like to receive their care.
---
Patient Advocate
If you have concerns about your care, please contact the patient advocate at 407-823-2094 or by emailing SHSPatientAdvocate@ucf.edu. The role of the patient advocate is to ensure that proper medical treatment is received and that each patient is treated with respect.
---
Student Health Fee
The health fee (included in tuition) helps to offset your medical costs which means you can see a health care provider with no out-of-pocket charge for the general (primary care) office visit. Patients are financially responsible for items not covered by the health fee.  These include, but are not limited to clinical procedures, x-rays, laboratory services, medical equipment, prescriptions, non-prescription medications, vaccinations, dental services, and physical therapy. When charges occur, students can elect to use their health insurance coverage, or pay out-of-pocket. All out-of-pocket expenses as determined by your health insurer are due at the time of service.
---
Interpretation Services
For patients who are more comfortable communicating in their primary language, interpretation services are available, through either bi-lingual staff members, or by use of a telephone medical translation service.
---
Accreditation
UCF Student Health Services is AAAHC accredited. AAAHC accreditation means that the organization participates in an on-going self evaluation, peer review and education to continuously improve its care and services. The organization also commits to a thorough, on-site survey by AAAHC surveyors, who are themselves health care professionals, at least every three years.
---
Jobs with Student Health Services
All administrative and medical positions are posted at www.ucf.edu/jobs.
If you are a current student seeking part-time employment, we hire in non-clinical positions, such as Appointments Clerk, Cashier, Pharmacy Merchandise, and more. If you would like to work in any of these areas, log in to Workday and check for openings under the Job & Career Opportunities tab. 
---