Type 1 Group at UCF
---
Are you a UCF student Type 1 Diabetes? Are you struggling to find your niche on campus or find a way to enjoy all these wonderful college experiences without jeopardizing your health? Type 1 is a fun, educational and interactive group developed just for you! Young adults can often feel isolated and frustrated when they are dealing with a chronic disease such as diabetes. The Type 1 program provides entertaining and interactive education related to diabetes, and the monthly meetings provide students with the tools and information they need to successfully enjoy their college experience while managing their diabetes in a healthy way.
The program helps students embrace new ways to manage their health and interact with healthcare professionals that have devoted their lives to improving the lives of those with diabetes. At each monthly meeting students meet with others with diabetes, listen and possibly share experiences, see and try new equipment, and probably make some new friends. There are new topics of discussion at each meeting, some of which have been blood glucose monitoring, exercise, carb counting, and stress management. A complimentary meal is provided at each meeting and new members receive A1c testing at their first meeting.
For more information on Type 1 Diabetes:
Become a Member!
---
If you have an interest in participating, just learning more about the program, or if you are already a member and your contact information changes, please fill out the Type 1 Membership form and we will be in touch!
---
Students with Type 1 are Making Headlines!
Check out some of these stories featuring UCF Students with Type 1.
UCF's first-ever Gates Cambridge Scholarship recipient, Chris Clifford '21, is determined to help cure type-1 diabetes, the disease that once sent him into hiding. Read the full article here.

UCF rower Jessica Matteson overcomes Type 1 Diabetes diagnosis to row in NCAA.
---
FALL 2023 Meetings
We are excited to resume meeting in person once per month on Tuesdays at 63′ South from 6:00-7:30.
August 29, 2023 – Welcome & Resource Fair!
September 19, 2023 – Introducing Diabetes to our Roommates
October 17, 2023
November 14, 2023
Dinner will be provided at 5:30 pm for current Type 1 members!
All UCF Type 1 members are invited to attend these meetings. Not a member? Fill out the membership form above!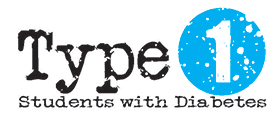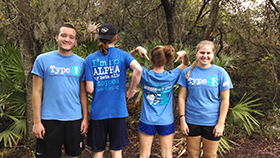 FALL 2023 COMMUNITY EVENTS
September 16, 2023 - Touched by Type 1 Annual Conference
-
November 11—Dancing for Diabetes Show
-
November 14 -- World Diabetes Day
Wear Blue or a Type1 @ UCF Shirt to represent Type1's Everywhere!